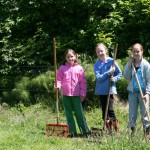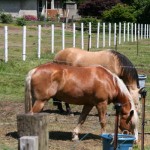 You've spent a great day riding, so while while you stay at one of Ocean Shores' many fine motels or campgrounds, treat your horse to a stay at Nan-Sea Stables.  It's only fair.
After all, your horse did all the work, so why should you be the only one who gets pampered?  Our friendly staff, our large, appealing (to horse and rider), grassy pens, our in door arena, our 45′ round walking pen, our secure grounds, and our satisfied friends know that every horse gets the most comfortable evening available.  And, the morning breakfast in bed (only for the horse) is a big hit!
And if the weather doesn't cooperate, we have a huge covered arena for your enjoyment – 365 days a year!  So the next time you need to board your horse, be sure to make reservations at Nan-Sea Stables in Ocean Shores!
Rates:
$20 – per horse for stall with run
$15 – per horse for corral
Reservations recommended!  Please phone: (360) 289-0194
For your and your horse's comfort, security, and safety, please familiarize yourself with the boarding guidelines.
---
1. No stallions.
2. One horse per stall.
3. Two compatible horses small corral (maximum).
4. Four compatible horses large coral (maximum).
5. One week, or more, advance reservation recommended.
6. Deposit 50% or credit card for reservation.
7. Notice of 48 hours cancellation required for refund.
8. Check in at 4:00pm.  (Arrivals before 4:00pm and after 6:00pm must be arranged in advance.)
9. Check out by 1:00pm.
10. You are responsible for daily cleaning of your stalls and before you leave!
11. Indoor arena can be used according to barn rules.
12. Please walk past all horses on trails and beach.
13. No smoking in barn or on trails.
14. Please close all gates and stall doors after removing your horse.
15. No loose dogs allowed.
16. Horse owner responsible for destruction of facilities and/or harm to other horses at stables.
17. Please bring your own feed (We do morning feeding!).
18. Horse trailer parking available.
No camping facilities are available at Nan-Sea Stables, Inc.   Camping available at Ocean City State Park (1/2 mi.) or American Adventure (1 1/2 mi. ). For hotel infomation please contact Ocean Shores Chamber of Commerce: (800)76-beach or (360) 289-2451
Nan-Sea Stables, Inc. reserves the right to refuse service to any person/persons.