3 Hour Horse Course
Enjoy Our 3 hour horse experience fun for all ages Large indoor arena makes it a year round experience. Also, an outdoor course. By Reservation Group size 2-4 riders only. 360-289-0194 $65 per Rider.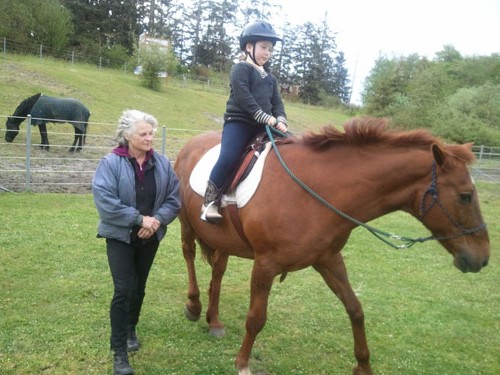 Each person will learn some basic stable management, how to handle horses safely on the ground, proper grooming, saddling & bridling of the horse you will be riding.
We begin the last hour with proper mounting and basic riding skills. What you should do in an emergency situation. Each person will be instructed in ways to communicate with the horse they are riding and learn to become a leader, since that is what horses respond to.
We will have many obstacles set up in the arena for you to see if you can direct your horse without just following the other horses, to see how your skills are working.
Two to four people per session, so you can get more attention with the smaller groups. Our scheduled time is 3:00pm to 6:00p.m on Weekdays, 10:00 a.m to 1:00 p.m on Weekends, with a 10 minute snack break. You will need to bring a snack w/drink.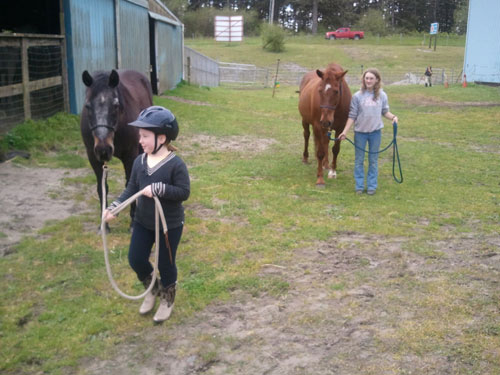 Find us on Facebook
The Fine Print:
**Number of riders/ages/height/weight/experience, needed at booking
Suggested Dress:
LONG PANTS
WARM or WINTER COATS
SHOES/BOOTS with HEELS or TENNIS SHOES
Hats and Gloves by choice
**NO SANDALS**
**Nan-Sea Stables, Inc. reserves the right to refuse service to any person we judge unable to safely ride our horses; i.e., overweight, height/weight proportionate, physically or mentally disabled.
ABOUT THE INSTRUCTORS
Instructor Nancy Fellows
Over 30 years of experience
Over 25 years of competition in class A horse shows
Many awards in Trail class, Hunter-Jumper, Western Pleasure, Equitation, Side Saddle, Saddle Seat, Native Costume, Halter classes
Dressage and Natural Horsemanship have been the main focus for the last 10 years
Trained multiple horses in the past 25 years from first rides to qualifying for Regional and National Competitions
Trained or rode in clinics with: Ray Hunt, Jack LeGof, Jeromy Beal, Gerhard Politz, Karen Rohlf, Lilo Fore, Cindy Sydnor, Kari McClain, Mike Osinsky, Marc Ray, Barb Apple, Don Jessop, and many more.
Participated in 2 complete series of USDF Instructor/Trainer Workshop Series – Studied for 6 weeks at Parelli Center in Colorado
ABOUT THE FACILITY
Largest indoor arena in the area for year round lessons!
Large Outdoor Obstacle Course!
Excellent trained school horses or bring your own
Access to private trails, the beaches and many places to ride for our monthly boarders & students!
Call to schedule a lesson
(360) 289-0194